Version: 1.6




Soon available on:

iPhone, iPad
Android
Windows
Linux

EasyViolinTuner




"The app is very straightforward and is very easy to use. I use it everyday and am very happy with it."

By GenericNickName121 from Canada





"A great app. use it a lot for tuning my violin!"

violinbow from United States



Very easy tool to tune your violin with the real instrument sound. Just click on the button and tune violin with the sound of the tuned string!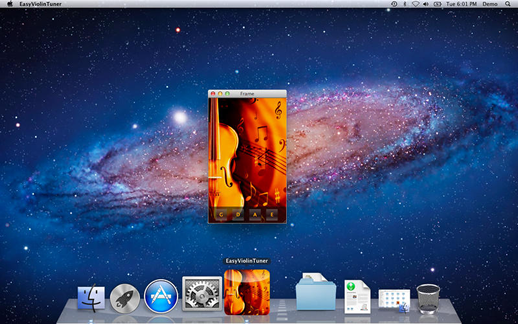 What's New in Version 1.1:

* Retina display improvements
* Automatic repeating of the playing sounds
* Wikipedia information and buying hints
* 10 new pitches modes:
+ Baroque,
+ Scientific,
+ France1859,
+ New Philharmonic,
+ Concert Pitch,
+ Boston Symphony Orchestra,
+ New Berliner Philarmoniker,
+ Old Berliner Philharmoniker,
+ Renaissance