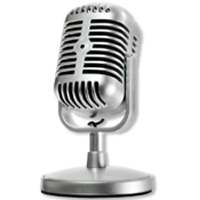 Version: 1.5.1


Soon available on:

iPhone, iPad
Android
Windows
Linux

EasyAudioRecorder




"It's great to use with a USB mic! Voice and musical instrument is clean and clear!"

Pamveeeeeee from Philippines





"Excellent interface regarding its stated function of recording. Especially useful is the ability to locate the listed and saved recording from the app."

psylas_revisited from United Kingdom



EasyAudioRecorder is an easy to use tool, which saves the recording sound in high-quality M4A, WAV, AIFF, CAF formats, and, offers several customizable parameters concerning the recording, including channels and sampling frequency.

Have a lot of fun while recording your own voice, podcasts and music!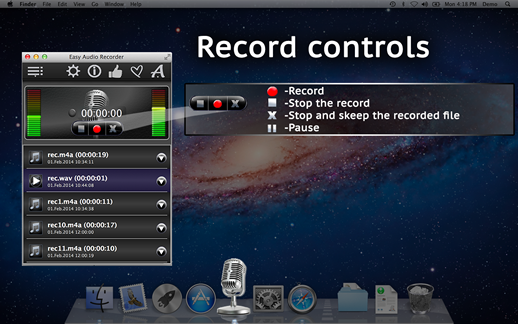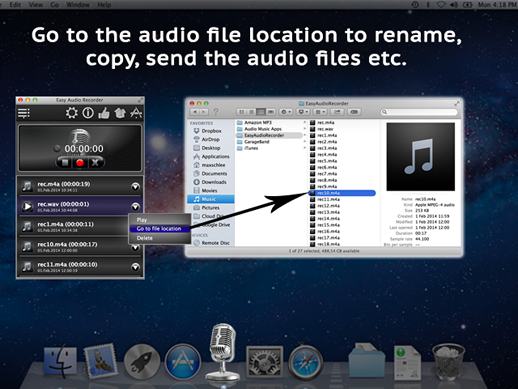 What's New in Version 1.5.1

- Fixed not working pause button on play-out
- Small cross promo and GUI changes


What's New in Version 1.4

- Added PeakMeters,
- Added in Settings "Go Location" button and an explanation dialog how to switch the audio input device,
- Done some work on not reproducible AIFF-problem, we hope it works now fine. It you have any problem with AIFF-recording please, contact us at: info@neonway.com


What's New in Version 1.3

- Added the warning dialog on cancel action, while recording session;
- Small GUI changes.


What's New in Version 1.2

This update is based on users feedbacks:
1. Added the new audio formats for recording: M4A, AIFF, CAF with different bit rates including the highest quality bit rates,
2. New audio engine for better input and output audio quality,
3. The EasyRecorder app size is reduced now, it gives you 15 MB more space on your Mac for other apps and music,
4. Now the app is more verbose for recording and playback activities,
5. The app always records now from the system default input device,
6. Fixed rare occurred recording freeze,
7. Removed the low quality sample rates,
8. Added more settings for the audio output,
9. Added the app introduction slides,
10. Usage of 64bit intel architecture,
11. Retina resolution support,
12. Full screen support.

Have a lot of fun while recording your own voice, podcasts and music!